Austin Scott
Creative Executive
A creative leader focused on driving growth for clients, agencies and teams.
Builder of End-to-Endless Brand Experiences
Austin Scott is an award-winning creative leader and one of Business Insiders 50 Rising Stars of Madison Ave revolutionizing advertising.
To discover what we're fully capable of we must push ourselves to go where we've never been.
The unknown can be scary, but it's where I believe creative leaders are called to go. To challenge our teams to learn new skills they never thought they could master and lead our clients and businesses to successes they didn't think possible.
BBDO, Leo Burnett, Havas, EP+Co, Laughlin Constable, Union, Valtech
Savannah College of Art & Design | Masters of Fine Arts in Advertising
University of Evansville | Bachelor of Science in Mass Communications
 Effie, New York Festivals, Awwwards, Shortys, Addys Caples, Proxy, Addys 
CPG
Ziploc, Raid Pest Control,  Cosamin, Master Lock, 5Gum
TECHNOLOGY
Verizon, Lenovo, Sprint, Kinetic
The UPS Store, Pearle Vision, Quility Insurance, NRG Energy, Sears
Bud Light, Pepsi, Mtn Dew, Rice-A-Roni, Cracker Barrel, Quaker
AstraZeneca, Bayer Aspirin, Flintstones Vitamins, Northwestern Medical
FASHION
Tumi, L.L. Bean
FINANCE
Coinbase
Speaking & Thought Leadership
I've been fortunate to have a number of opportunities to share insights with various professional organizations and press to further elevate the agencies profile. Including being named to Business Insiders 50 rising stars list, Muse by Clio's Year in Creativity roundup and speaking on various panels such as the Society of Digital Agencies and Adobe.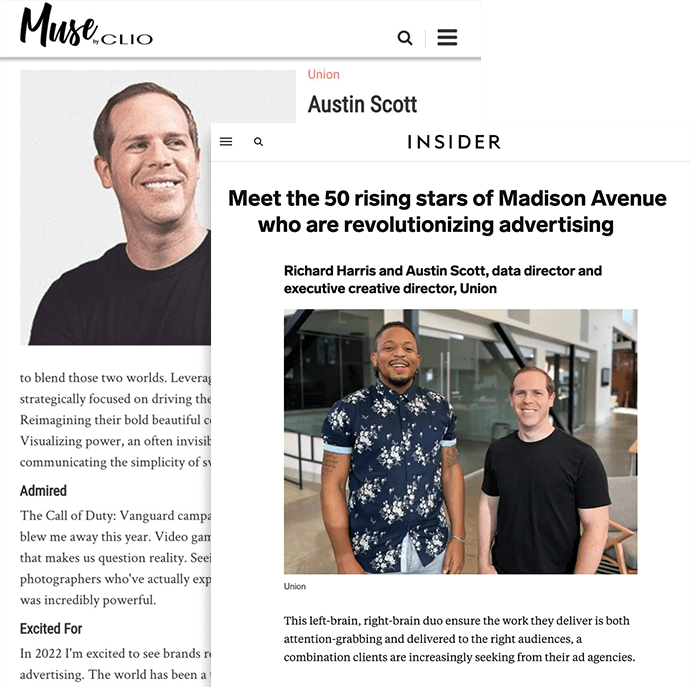 Austin Scott is an award-winning creative leader and one of Business Insiders 50 Rising Stars of Madison Ave revolutionizing advertising in 2021.
His focus is on transforming businesses through the power of creativity and innovation. Working from coast to coast, Austin has hung his hat at agencies such as FCB San Francisco, Leo Burnett, BBDO, Laughlin Constable, EP+CO, and currently serves as ECD and Head of Creative at Valtech, in Charlotte, NC.
A digital native, Austin has carved his path by helping agencies and clients navigate the evolving digital landscape. Connecting the digital and traditional to leverage technology and tell compelling stories that meet people where they are.
Austin has worked with a diverse group of clients over his career including: Pepsi, Verizon, Lenovo, Bud Light, The UPS Store, Coinbase, AstraZeneca and Raid Pest Control. Each offering a unique set of business challenges and category experience.
In his current role, Austin serves to elevate the creative product of the agency by inspiring his teams and helping integrate big ideas across media, production and digital to create seamless experiences.
Austin has also been a key contributor in winning numerous new business pitches, most recently Husqvarna, Coinbase, Rice-A-Roni, Quility Insurance and NRG Energy while at Union. Prior to Union he was a part of winning creative teams for accounts such as Cracker Barrel, Hello toothpaste and more.
In an ever evolving digital and marketing landscape, Austin's focus is on building brands of the future and is continually seeking out talent and partners who share that vision.